Meet PEC Laser's New Outside Sales Representative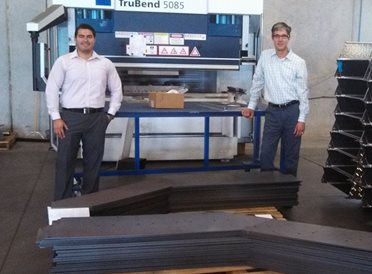 PEC Laser recently announced a new appointment to their sales team, Carlos Torres. As PEC's new outside sales representative, Carlos is developing short and long term strategies to capture new laser cutting business in the on and offshore oil & gas industry, and penetrate as yet untapped markets such as water treatment; construction, air filtration; railroad; HVAC; and machine shops without laser cutting equipment.
Carlos has an unusual skill set and background. Born in the U.S., but raised in El Salvador, Carlos attended ESEN University, and attained a Bachelor in Law Degree. He actually practiced law in El Salvador for 3 years, specializing in environmental law before returning to the country of his birth. After returning to the U.S., Carlos took a position with a manufacturing company as a customer service representative and assisting heavily with production management and quality control. He enjoyed the manufacturing environment and found he was a natural at selling and taking care of customers. He wanted to somehow translate these more recently acquired skills to his passion for the environment.
When Carlos decided it was time to bring that dream to life, he interviewed with numerous companies. "The reason I chose PEC Laser is because of the focus of their parent company, Proinlosa Energy. They are well known in Spain for their outstanding components used in the wind turbine industry," says Torres. "Proinlosa is dedicated to the improvement of renewable energies and reduction of CO2 emissions, and this was very appealing to me."
Both Proinlosa Energy and PEC Laser utilize the same precision laser cutting technology and equipment, but Proinlosa is more focused on the wind turbine industry while PEC Laser is their broader, industrial division.
Scott Sattler, Sales Manager for PEC Laser, couldn't be happier. "Carlos is going to be a great addition to our sales team. We have high hopes for him!"