PEC Laser Expanding Sales Team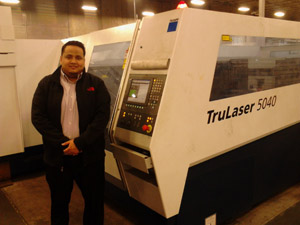 At PEC Laser, we work hard to provide each and every one of our clients with top notch service. That, combined with our unique ability to produce the custom laser cut products our customers are looking for, has helped to make our company what is today.
Because we are experiencing major growth and is expanding to accommodate our latest projects, we are welcoming a new member, Mario Quintanilla, to our incredibly driven sales team to ensure that we not only provide the tailored services our customers have come to know and expect, but that we do so in a timely fashion.
As a Boston transplant originally born in El Salvador, Mario's experiences are culturally diverse when it comes to sales, and he'll be able to use this knowledge when assisting our customers. Not only does he have a strong background in marketing , he's worked in sales for Ford Credit and Swissport USA and has also worked for Virgin Atlantic Airways. Martin will be shadowing our outside sales representative, Carlos Torres. Carlos develops short and long term strategies that not only capture new laser cutting business in the on and offshore oil and gas industry, but he's also fluent in tapping markets that may have previously been unaware of our laser cutting services like the water treatment, construction and air filtration industries.
As PEC Laser's latest addition to the sales team, Mario will receive extensive training from Carlos, especially when it comes to the blueprints and inner workings of our machinery as well as our our day-to-day operations. He will learn what sets our company apart in the laser cutting industry and how we efficiently provide quality metal cutting services locally in Houston.. We happily welcome Mario as the latest addition to our company and look forward to continue delivering customer satisfaction through commitment, attention to detail, teamwork and the pursuit of quality laser cut products!